Happy Chanukah!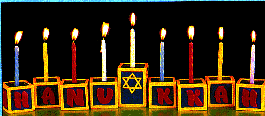 The Jewish Festival of Light, Chanukah, begins at sunset on December 23, and lasts until sunset on December 31. Chanukah is a celebration of the victory of religious freedom for the Jews when Judah the Macabee and his troops defeated the Greeks and Asyrians in a battle against religious oppression. Even though they were outnumbered, the Maccabeans were victorious, and proceeded to reclaim the Temple. However, they only had of oil, which supposedly would last only one day and one night. Feeling one day and one night was better than nothing at all, they went ahead and lit the flame -- which ended up burning for eight days and eight nights. Jews celebrate this miracle by lighting the candles of the Menorah every night during the Festival, and also by eating fried, oily foods such as potato pancakes (latkes) and jelly doughnuts. Chanuka is also a time for family and festivities -- including music. Here is a selection of some albums featuring the songs of Chanuka. Candles Long Ago: Songs for the Chanukah Season
Sharon, Lois and Bram
Elephant Records
P.O. Box 609, Station C, Toronto, Canada M6J 1J0 Sharon, Lois, and Bram are known to Canadians as a trio of children's entertainers, with cross-country tours, numerous albums, and a long running television program. Candles Long Ago is a very short album of seven Chanuka songs such as "Dreydl, Dreydl" and "Oy Chanuka" as well as a selection from Tchaikovsky. This album is especially suited to the under 10 crowd, with some generally fun tunes like "Dont Bring an Elephant (To a Family Meal)." Perfect for sing-alongs. Festival of Light
Various Artists
Island This is perhaps one of the best contemporary collections of Chanuka songs. Jewish and non-Jewish artists alike contribute unique versions of some classic and obscure music. The Covenant's "Kiddush Le-Shabbat" is an eclectic misx of cantorial chant set to didgeridoo and drums. But the stand-out track here is Peter Himmelman's and David Broza's "Lighting Up the World," sure to become a Chanuka classic. Chanukah by Pianolight
Guy Maeda - Pianist
Pianolight Music Pianolight music is defined on the CD cover as "more familiar than new age music, less complex than jazz, listener-friendly and easy to digest, light, but satisfying . . . " All of those descriptions are accurate, as pianist Guy Maeda performs solo, subtle renditions of Chanukah songs that create atmosphere by the light of the Menorah -- even with a little romance! The music ranges from traditional to Kenny G's "The Chanukah Song." The sparse arrangements do create some uniformity, but there are some uptempo pieces as well. Just in Time for Chanukah
Margie Rosenthal and Ilene Safyan
Cheera Recordings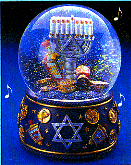 This female singing due from Oregon came together in 1979 by a mutual love of Jewish music. Their enthusiasm shows on this recording, which is perfect for the entire family. Their sweet, harmonious voices and elegant guitar strumming grace such tunes as "O Chanukah," and other classics, with a simplicity easily understood by children and a sophisication that will be appreciated by the adults as well. Highly recommended! The previous two selections are courtesy of
Hatikvah Music International
436 N. Fairfax Avenue
Los Angeles, CA 90036
Tel. (213) 655-7083
Fax (213) 938-0577 Happy Chanukah!