Yulduz Usmanova:
Uzbekistan's 'Star' That Shines Beyond Borders
By Matt Forss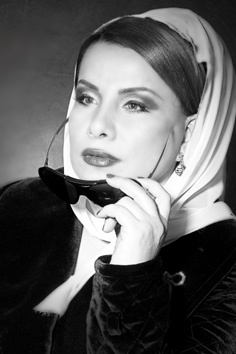 Yulduz Usmanova was born on Dec. 12, 1963, in Margilan, Uzbekistan. She comes from a family of textile workers. However, it is her mouth, not her hands, for which she is known to many of us. She has recorded over a thousand songs, for both national and international albums, worked on artistic collaborations, and continues to delight the world with her voice. She also has one daughter who is also involved in the music business. The following interview was translated from Uzbek to English with kind assistance from Davron Azizov. For those familiar with Russian and Uzbek, more information can be found at her official website. How and when did you first get involved with music? I was ordinary rural girl, who loves to bake, cook and be busy with domestic issues. But the power of lyrics and music led me towards the local cultural center. I organized a small group of dutar players. Then applied to the college of pedagogy where I learned the secrets of song and music. When I was finishing the college, I met the famous actor of that time, Gavharkhanum Rakhimova. Listening to one of my singing performances, she invited me to her ensemble, "Margilon handasi". Then I started singing my first songs as a soloist of this group. After all Gavharkhanum invites me to Tashkent. I stayed at her home, where she started to give me personal singing lessons. Then she passes me to one of the famous professors of Uzbek State Conservatory, Saodatkhanum Kabulova and says, "you have to make her a professional singer". So I started working hard with Saodat Kabulova, especially on my mistakes and developing my skills. Soon I became a student of Uzbekistan State Conservatory. My major was vocal and folks songs, and then I took lessons from maqom too. This how I came to the world of music.
What type of music do you perform? I perform music colored with uzbek traditional music. I like to make experiments and some fusion in that area. I also like to mix a folk music with modern pop adding some international loops and create something new, fresh and exclusive. And throughout my life, I have created my own, quite recognizable style of music performance.
What is the lyrical content of your songs? Big part of my songs are lyrical songs, about love, relations between people. However, there is only important direction which I pay great attention to – its songs about problems in people's life. I try to perform and deliver those songs-messages, which people are eager to learn, to hear and to find solutions to their questions… Thus very many songs have philosophical context, and I have always tried to stay on earth and sing about real things.
Do you mainly sing in the Uzbek language, or another language? Mainly in uzbek, but in other languages as well. In 2005 I released an album named Biyo Jonam recorded in Tajik language. In 2006 I recorded new songs in Kazakh, Tatar, Chinese, Uyghur languages. This year I recorded 5 songs in the Turkish language.
Do you play any instruments? I play dutar, piano and percussions.
Your name Yulduz means star in English. Is that a coincidence, or did your parents know you were going to be a musical "star"? It has a story. My elder brother, after I was born came to my mother and said, that he saw a very bright star in the sky, the night before. While they were confused how to name me, he offered to give me a name Yulduz – which means Star in English. And destiny brought me to the stage where I don't claim to be star. Everything is by fans and supporters.
Are you inspired by any one particular musician? Yes, first it was famous Azeri star Zeyneb Hanlarova. Her performance was a real inspiration for me at my childhood, after her, I can name Munojot Yulchieva and Tamara Khonim, and her sister Gavharkhanum , both played a great role in my life. I am still grateful to them.
What do you think makes your music unique? It's not just a music or one side music. For me, the lyrics are also very important to create a song as a big composition, unique, not unlike my other songs, which are also recognizable from other artists at the same time. Trying to put some energy and soul. All my pain, my worriness and my life experiences are gathered in my songs. I am singing about me in some way.
Is your music celebrated by young and old people alike? Interesting question. Yes, usually it is celebrated almost equally, the only thing is that older people usually prefer more serious, meaningful songs whereas youth like more driven, energetic, joyful songs. But, usually my fans are those who started their independent life, who already know that life is not a holiday forever, and its not perfect sometimes, that there are a lot of exams and unforeseen circumstances during our life. My fans, youth or older generation moslty educated and experienced people.
Are you working on a new album slated for an international release? Yes, presently I am working with one Turkish studio and we plan to record a new album in 2007 with Turkish songs and songs translated to Turkish. So far, I will not disclose much info on that, you will have to wait and see.
Have you ever toured the U.S.? Do you have plans in the future to tour the U.S.? Yes, I have toured the US during my time living in Germany and Holland, it was part of a tour organized by Sony Music. After that I also gave some concerts for people from the post Soviet Union and mainly in New York. In the near future, I have plans to expand my tour and give some concerts in Washington, San Francisco, Miami and Chicago as well as. May God bless us!
Do you have any hobbies or activities you like to do when you are not recording or performing? Yes, of course, although I am usually busy with my creative activities, I try to find some time for cooking, gardening and even poultry keeping.
What are your future aspirations with your musical life? National classic and international projects inside and outside of the country. I want to create a school where young talents could find support and be real masters of their job. Especially in arts.
Finally, what do you want people to learn from your music? I would like people to learn the true meaning which we deliver in my songs, and the true meaning is usually hidden, and it demands time and intelligence to discover it. I want people to stop and think about some themes I open in my songs.
---

Matt Forss graduated from Lakeland College-Sheboygan, Wisconsin in 2005 with a B.A. in Biology and obtained an M.Sc. in Exercise Science in May 2007 from Northern Michigan University-Marquette, Michigan. He is pursuing an M.F.A. in Creative Writing at Goddard College-Plainfield, VT. Since 1998, he has collected numerous musical instruments and CDs from around the world. In 2000, he wrote a paper on Mongolian ethnomusicology, entitled, "How Does Music Play An Important Role In The Life And Culture Of Mongolia?" He wrote CD reviews for Songlines magazine and has forthcoming reviews/articles in peer-reviewed journals including Ethnomusicology, African Music, Himalayan and Central Asian Studies, and Asia Journal of Global Studies. Currently, he has collected over 430 CDs that represent over 180 different countries. His general interests include ethnomusicology journalism and researching the traditional/contemporary ethnic music of various cultures from around the world. His specific, geographic areas of study include the traditional and popular music from Central Eurasia (especially Mongolia, Uzbekistan and Azerbaijan), East/Southeast Asia, North Africa (especially Mali, Mauritania, Western Sahara, Libya, and Morocco), and Pacific Islands (especially New Zealand, Solomon Islands, and New Caledonia). He also enjoys studying Uzbek, Kazakh, Azeri, Chinese, Tamasheq, and German linguistics. In November of 2000, he accepted the position of writing World Music CD reviews for this site.