Alex Torres y Los Reyes Latinos
Dateline: 01/23/98

Alex Torres is the leader of one of the biggest bands in Upstate New York -- literally. Not only does Los Reyes Latinos (The Latin Kings) have many members, but also have been wowing audiences at local gigs and international festivals alike with their unique blend of salsa, merengue, and other Latin American styles.

Alex recently took some time out from his hectic schedule to answer some questions about his background, the band, and his musical goals.
---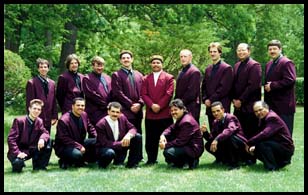 Paula: How long have you been playing music, and what got your started originally? How did your band come to be? Alex: I've been playing music since the age of 6, starting in the South Bronx. The youngest of my siblings (there was a 6-7 year difference between the last sibling and myself) my mom used to have me in the playpen, in NYC. And the radio was on 24/7 on the AM station, listening to Machito, Tito Puente, Tito Rodriguez, etc. I was bombarded in the playpen, listening to this music. I moved to Amsterdam, NY at the age of 14 and there was NOTHING in the whole area in a 200 mile radius. I loved my heritage and my music, and I was a fish without water, a tarzan without his jungle! Basically, what I did was, I started teaching some of my friends in school, who had like, very little connection to their heritage. They were Latino but didn't know their heritage, so I started teaching them percussive instruments. I couldn't find a bass player to play the Latin rhythms so I bought a bass and started playing bass, by ear. We started jamming, we rehearsed every single day, seven days a week, and we stayed out of trouble after school. Eventually one thing led to another, we formed a band so we could play at functions, and the guys named us Alex Torres y los Reyes Latinos. We've kept the name ever since. Paula: What is it like being the leader of such a large band? Alex: Its insane! But I love it. Its challenging, and you become a part time psychologist, because you deal with 13 individual egos. So, it fulfilled my medical career.
(Note: Alex thought he'd become a doctor, at one point) Paula: Who are your musical influences? Alex: First three on question #1, plus Eddie Palmieri, Willie Colon, Celia Cruz, Benny Moré, just to name a few. Paula: Your music is definitely not the type people can sit still to while listening. What is the funniest thing that has ever happened during a performance, either on stage or in the audience? Alex:The funniest thing that ever happened - this woman got heavily into a trance during a salsa, and she really was going at it with her partner and her partner swung her around and missed her hand. As she spun, the woman broke her shoe heel in midspin, lost her balance and was coming at the band like a tornado. She almost wiped out half of the horn section. THAT was the funniest!! Paula: What is the best gig you ever played, and why? Alex: The best gig I've ever played, to date, although the majority of them are very memorable, was the largest folk festival in the USA, the Johnstown PA Folk Festival. Upon our arrival, they had a staff of drivers for us, to give us a tour of the city, they gave us beautiful hotel rooms, they had a restaurant buffet for us to eat, and they even chauffeured us to a bar after the gig! Their organization, and their hospitality, has been unequaled by anybody in the last 10 years. Any musician who gets invited to the Johnstown Folk Fest should not think about it twice. They really know how to treat artists. Paula: What are your future plans, musically? Alex: To continue to write songs, and record them, because its a form of documentation. And more importantly, taking our beautiful music to parts where it has not been heard, played and enjoyed.
---
Thanks to Eileen Parzek who runs the band's unofficial Web site for helping out with this interview. Photo credit: Jeff Wood, Imagine That Photography and Video (518) 662-0092