Hearts of Space Reviews
Dateline: 02/27/98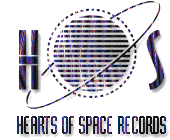 The best thing about World Music is that it encompasses so many styles, cultures, and genres that the label "world music" can mean a variety of different things. A record label that has been gaining a lot of attention in the world arena is Hearts of Space because the honchos there have very open minds when it comes to music, and often release projects which push the bounaries of musical styles. Within the one company are several "tributaries" as they call them: there is Hearts O' Space, the Celtic division; World Class, which presents traditional styles and genres; Fathom Music which focusses on ambient, New Age sorts of sounds; and RGB Records, with the ambiguous "future" music description but which really fuses many styles. I was recently sent some recent Hearts of Space releases, and want to briefly offer my comments.
---


Kol Simcha is a group of Swiss Klezmer musicians, with a strong background in jazz. Most people who are familiar with the Klezmer genre know it as Jewish wedding music, very joyous and energetic in sound. While Kol Simcha have presented that best-known Klezmer sound in previous releases, this album's focus is a little different. Ever heard of Klezmer ballads? Klezmer Soul is full of them, and heartfully expresses the anguish of ghetto life. The sound is much more sombre than the usually airy feel of klezmer, but captures another side of Jewish history and culture.


From the first notes of Passion & Soul, the Rome-born, L.A. based flamenco guitarist Gino D'Auri captures the energy of authentic Flamenco. Backed up by singer/percussionist Antonio De Jerez, that gypsy sound just makes you want to get up and dance. Spanish/English liner notes provides a lot of background on the artist and the genre.


Sacred Treasures: Choral Masterworks from Russia is acappella in the reuest sense of the term. Performed by Russian and Bulgarian choirs, the vocal layers sound almost orchestral in quality. This is a must-listen for fans of chant and traditional liturgical music.


Celtic Planet part of Hearts O' Space's "Celtic Twilight" series, is a good sampler of what people from various parts of the world are doing with Celtic music. There are some tracks with vocals, many without, and all have an ambient feel that would categorize this album as easily in New Age as in Celtic. Artists include John Doan and Mychael and Jeff Danna, two acts which I will talk about in more detail over the next two reviews.


John Doan is a master of a very rare and unusual instrument: the 20-string "harp" guitar. It used to be very popular, even sold in the Sears catalogue, but now it is in virtual obscurity. Although Doan is from the United States, where he lives in Oregon and teaches at Willamette University, Eire: Isle of the Saints is richly produced and performed to effectively capture the Irish spirit, as seen through the lives of St. Patrick, the great poet Willian Butler Yeats, and others.


Mychael and Jeff Danna are best known in their native Canada as film and television composers. A Celtic Tale: The Legend of Deirdre takes their careers on a slightly different twist. Instead of composing the soundtrack for a dramatic movie, they have composed the soundtrack for a tragic medieval Irish legend, one which marries Celtic folk, classical, ambient -- and yes, even film music. The story of Deidre is in the liner notes and on its own worth a read if you are not familiar with it. There is also a narrated version of this album.
---
My general comments about Hearts of Space releases, from what I have heard so far, is that they are well-produced, and showcase music which represents different sides of established genres. If you would like to hear some of this music, check out their weekly radio show -- details are at the Web site