Liu Fang's Passionate Pipa

Traditional Chinese Music is in Her Heart and Soul

For Liu Fang, traditional Chinese music is not only in her heart, it is in her soul. She was born in 1974 in the province of Yunnan and began learning the pipa, a Chinese lute, at the age of six. She began perforning at age eleven, including a solo performance for the Queen of England during the royalty's visit to China and Japan. After graduating from the Shanghai Conservatory of Music in 1993, where she also studied the guzheng (a Chinese zither), she continued performing to critical and audience acclaim.

Moving to Canada in 1996 was a turning point in her career, as she began touring Canada and the United States, playing various musical festivals in North American and Europe and making various television appearances. CBC Canada and its French station Radio Canada recorded four of her concerts and she has received several awards from the Canada Council for the Arts. Most recently, she was awarded the Future Generations Millennium Prize in June of 2001. One of only three winners, this prize is awarded to young performers seen to have extremely bright futures. In the words of the jury: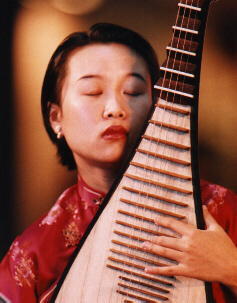 Liu Fang's mastery of the pipa and the guzheng has established her international reputation as a highly talented young interpreter of traditional Chinese music. She aspires to combine her knowledge and practice of Eastern traditions with western classical music, contemporary music and improvisation, thereby creating new musical forms, uniting different cultures and discovering new audiences.
She is not only talented, but very well spoken. I had the pleasure of interviewing Liu Fang and having her talk about her musical career and how she became so proficient on two very difficult instruments.
Photo by Jacques Nadeau





Next page > Musical Background to Today >