Reptile Palace Orchestra
Dateline: 07/10/98

The Reptile Palace Orchestra is a very popular cult band amongst World Music fans in the United States. Hailing from Madison, Wisconsin the band specializes in collecting and performing music from as diverse global locations as Bulgaria, Armenia, Eastern European dances, to American lounge music like the song "It's Not Unusual," and a rather unique interpretation of the Jimi Hendrix classic "Little Wing."

Their latest Omnium release Hwy X has been stirring up a lot of attention for this self-dubbed "Balkan Lounge" act. I recently had the most interesting experience of asking a few of the members about RPO and the direction of the band's career. Below are response from Anna Vogel, lead vocalist and percussion; Biff Blumfumgagnge (fiddle, mandolin and vocals); Bill Feeny (guitar and vocals); and Seth Blair (cello and vocals). Other members of the band include Doug Code on clarinet, accordion, and vocals; and Siggi Baldursson on dumbek, drum kit, and percussion.
---
Paula: How and when did RPO come to be, and what is each of your musical backgrounds?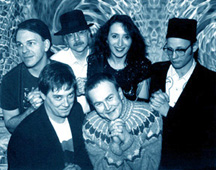 Bill: In 1992 I put together a halloween jam for a local radio station (WORT 89.9 FM, Madison) and one of the songs we did was Werewolf, by Michael Hurley. I had worked it out with Doug so there would be a Macedonian style clarinet solo at the end (loosely patterned after the solo in Mesarisko Oro, a Macedonian folk dance tune that Doug & I used to play together). In the performance Seth joined us on the cello. Werewolf was the opening piece and only the last bit of it got recorded but it was clearly the most interesting thing about the show. I decided to redo it in a studio and added a percussionist. Fate or Lady Luck caused me to run into Biff (who was an old friend and music/art collaborator from various other projects) and I asked him to participate. I remember the meeting like it was yesterday, it was at a Starship show which I hadn't planned to attend but a friend had an extra ticket and he didn't want to go alone. Biff was sitting in on violin with the opening act (Marcus Bovre) and I was reminded that I had always planned on using Biff for just this sort of thing. I think I snagged him in the bathroom and "proposed." We recorded five songs, they were probably; Gnossienne #1 by Satie, Werewolf, 900 Miles, You are my Sunshine & All the Pretty Little Horses. The sound of the combo was really sweet and I decided to tape an hour or so of music and release a CD. I had a lot of stuff in me that needed to be get out: I'd been obsessed with arranging "It's a Man's World" by James Brown with a woman singing (irony) since about 1980 (the idea came to me while watching the movie "Android"). I can recall discussing it with Biff in the mid 80s (I understand Cher has now recorded it but WE DID IT FIRST). I wanted to record Giusevska Rucenica (a challenge for Biff, see what he was really made of), Besame Mucho, bunches of stuff. To keep people interested, I suggested everybody bring some material in. Seth provided his originals, Biff wrote a jig and brought in Caravan, Doug brought in Zensko Camce plus notation for Giusevska (minus the solo section which Biff had to work out), etc... I think when Biff put down that solo to Giusevska (we were all sitting in the studio with our jaws dropping) I realized that we had some kind of potential. He had taken Boris Karlov's version and expanded it without detracting and by the end he's throwing in all these flying fingers tricks. It's pretty cool. We recorded these songs with an average of two or three group rehearsals (to arrange them) before hitting the studio. It shows in the performances but there's also a charming spontenaety that I really love about those first four sessions. While we were doing this, a local promoter heard about us and asked if we'd play out. At a loss for a name, we just took it from the title of Seth's song "the Enchanted Reptile Palace." Two of the percussionists we'd worked with had left town and none of the singers were available. We brought in Cathy Moore on dumbek because she was familiar with Balkan rhythms. Field Deshane, the opera singer on Besame Mucho, suggested we try to get Anna for our vocalist/front person. In those early days, Cathy also played hurdy gurdy, flute, zurna, tar and gajda (until the bag tore). Our first appearance was before Killbilly on April 1, 1994. The audience was weirdly enthusiastic (much more so than I expected) and we decided to become a performing unit. Once we started working as a live act, I no longer tried to motivate the orchestra according to my own vision. We now try to be a democratic unit and each person is supposed to have a unique and important role. New material seems to surface relative to the amount of enthusiasm behind it. No single person has direct control over what we do or can't do but I suspect we are always subtly manipulating each other on some dark and obscure level. Our philosophy amongst ourselves is something like: "You name it, we'll attempt it." We met Boiled in Lead in Madison in the summer of 1994 and got along very well with them. They took us to Minneapolis that fall and we made a few friends up there. In January of 1996, Cathy moved away and we convinced Siggi he wanted to play with us and suddenly we were rocking out! Anna: I grew up steeped in all types of music from classical to jazz, and was given the ineffable luxuries of music lessons, music camp, band/orchestra/jazz ensemble participation, and frequent outings to musical events of all kinds. I've been singing and writing songs since I was three. Biff: I personally have had my hands on a violin since I was 8 years old, did the youth symphony thing, private lessons, etc. In high school I rebelled against the classical music world by getting a fat red electric arch top guitar from Aunt Daisy and building a copy of an "MXR Distortion +" in the electronics lab. Sprinkle in some Ted Nugent, an old Kay amplifier that exploded during Jazz Ensemble (burned transformer - what a stink!) and boom - I was writing silly tunes on guitar and getting suspended for leading the lunchroom in song. Later in life, playing with Willy Porter, he encouraged me to bring the fiddle out as a main axe, and suddenly I've got a 5-string violin with a Theremin hidden inside of it, and a "Balkan Big Band" to play it in. For more musically historic details on me, please visit my homepage. Paula: Do any of you have day jobs, and if so, what? Anna: I am an A.B.D. (all but dissertation) in the University of Wisconsin-Madison's English Literature department. For the past three years I have been teaching composition, communications, creative writing, and speech at Madison Area Technical College (a job I love), and have also served as a lecturer with the University. I run my own business --Editech Services-- doing technical writing, editing, and teaching pronunciation and conversation seminars to E.S.L. students. I am also a poet and fiction writer. Biff: I run a CD Mastering / Recording Studio called BEEFTONE (), play as a guest artist live and in the studio, & book the Reptiles locally. I also produce a late-night radio show - Mr. Hell's Eastern Lounge on WORT 89.9fm Madison. So no, I'm one of the lucky few that doesn't have a real day job. Seth: Well, see, I am a research biologist and University professor. I work on the developmental biology and genetics of fruitflies. Especially their wings. I am also married, have a dalmatian puppy named Eno (we were hoping for an ambient puppy, but he is more in his Baby's On Fire phase at the moment). Anyway, the prof. job pays my mortgage. Actually, I think we've all had pretty low expectations about the band, money-wise. I mean, not like we'd turn down the big bucks, but it's a Balkan lounge funk act, after all. But on the plus side, that gives us a lot more musical freedom that if we were trying to "make it".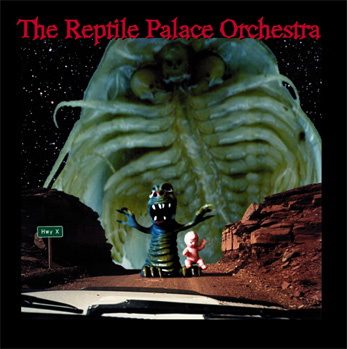 Paula: How did you get so good at fusing so many world music and ethnic styles? What makes you even want to attempt this? Anna: There's something called soul that lives in all good music, and swims out to meet the performer. The greatest pleasure is to feel it and swing with it. It doesn't matter what water the fish comes from: the way the sway hits you is a translation straight to the essence. Biff: I blame Feeny & Code, the "traditional" dancers in the group who brought in the bulk of the ethnic stuff. The fun lays in the challenge - playing the solo in "Giucheveska Racienitsa" (available on the Early Reptile and 24 Great Dance Tunes cassettes) literally took me 3 months of hard practice to master; working for such a reward is part of the reward itself. Bill Feeny (guitarist, band "daddy") did the graphic art on an old "Gomers" release I did in Madison in 1987, and soon began plying me with tapes he'd made that featured Bora Ozkok, Nash the Slash, Baris Manco, Michael Hurley, etc. He was always in these weird ensembles that rocked out in odd times like 15 and 11 - those tapes seeded a relationship with me that has born much musical fruit. Bill: I think what made us want to attempt this ("this" being what we're doing at the moment) has something to do with the personalities of the members and the way we challenge each other plus the rediculous amount of praise we seem to encounter. The fact that we get positive feedback from lots of very different places really goads us to continue. Seth: The audience here has been incredibly, surprisingly receptive to our music. And as a navel-staring singer songwriter, you will perhaps understand the giddy joy of seeing people DANCE to a song I wrote. This rarely happens in coffeehouses. Paula: Have any of you actually travelled to Armenia or Bulgaria, or to any other exotic location to experience the local music? Anna: Uh, I was in Gary, Indiana once. Does that count? (The others are much better traveled. My suitcase only sports stickers from England, France, Miami, New York, Mexico, and the Caribbean. I've got some records, though, that I like to play on the Victorola now and again.) Biff: Yes. I have been to Egypt, India, Greece, Pakistan, Holland (most of Europe, really) and Turkey. Heard a stunning house concert in India with 2 Sitar and Tabla masters. Played a "singer/songwriter" style show in Istanbul, Turkey where no one cared that I made up words to "Truckin." Bought lots of super deluxe tapes and got inspired to play violin in a non-western way; soon I fell in love with all those "eastern" notes hiding between our "western" notes. Bill: The most exotic places I have been are Haiti and a bunch of islands in the Lesser Antilles. The music I heard there hasn't shown up in our repertoire. I drove the hell out of Western Europe in a rental in the mid-80's. I spent a fortnight in England & Scotland last September. Generally, when I get enough free time, I like to disappear into the desert or the mountains. I've been vicariously experiencing a lot of different places through a close friend that I feel very lucky to be involved with. I met this man in 1977 or 1978 through folkdancing. He's a Colombian and he was in Madison for several reasons; family ties and the UW. He was working in economics and linguistics. He had already lived in places like Romania, France, Germany & Italy and had travelled a lot in Eastern Europe. We became friends through a common drive to be stimulated by sound and vision. As time went on he got a degree in economics at the Sorbonne and continued to travel every chance he had. Soon he had circled the globe several times, collecting music which he would feed me along with incredible stories of exotic adventures. He also felt committed to "latino-izing" me. He force fed me all kinds of stuff and the first styles that I took to were cumbias & their kin (Colombian) and son montenero (Cuban). I spent several weeks with him cruising around Western Europe in a rented car, basically sharing tapes. I have done plenty of road trips across parts of the US with this guy, mainly as an excuse to listen to music and look at new landscapes. Now he's a level 4 electoral official with the UN and I see him less than once a year but we still dump tons of music on each other. It drives me crazy because he sometimes gives me the most beautiful stuff on cassettes (which eventually go to hell) and I have no idea of what it is so I can't "follow the path" and go out and buy whatever it is, and any related material. I visited him in Haiti which was convenient because the travel time and cost was low. I'd like to do more of that but he's always in scary places like Cambodia, Mozambique, Liberia, Western Sahara and now Central African Republic. One of these days, though... I just hate the idea of getting shot. Another means to a musical end is through international folkdancing. I have been exposed to a lot of fantastic stuff by attending dance workshops and hearing the serendipitous bands that often perform for these events. Paula: What is the funniest thing that has ever happened during a live performance? Anna: Now THERE'S a tough question. There was the time Biff's bow shot right out of his hand during an exciting solo; the time we had a guest drummer at an outdoor festival on a windy day, and he almost got blown off the stage; the time we played a wedding and were set up right next to the meat carving table; and the time I was standing next to Bill and suddenly heard him playing the completely wrong notes. Our eyes met, and I saw his were filled with horrified confusion. "I'm playing the right chords," he mouthed frantically. In unison we gazed at the floor only to see that his capo had fallen off, detuning his guitar by some unknown and gigantic interval. Finally, last week we played a gig where Siggi took a wild solo in "It's Not Unusual," during which he kept screaming out "YEAH!" every two beats. Then he stopped playing the drums completely, but continued shouting YEAH! for a while, before leading us back into the song. Biff: Siggi's yelling drum solo live in "It's Not Unusual" - he usually plays this funny 70's style drum solo, but lateley he's been yelling (in time) at the end of it - and it's a crack up. Sometimes, the traditional folkdancers that faithfully follow us from gig to gig get so exuberant that someone ends up on the floor, or the "line dance" done to Tin Agape at a wedding snakes through obstacles such as tables and waiters. That's always a bit of a hoot. Bill: A huge wind storm blew in while performing at a park by Lake Monona. Birds were flying backwards, cymbals & mikes were falling over; that sort of thing. We were playing "Enchanted Reptile Palace" and I was enjoying all of the activity that had been whipped up by the threatening weather front. Hunks of tree were blowing past the stage. Anna's red hair, snapping in the wind, made her look like human a blowtorch. I had moved over to the drum kit to hold up a cymbal stand with my foot. Whitecaps were rolling in from the lake. Seth sang the line: "...where the hurricanes blew" and at that second, a bunch of balloons broke free from somewhere and straffed the stage and we all reflexively ducked. It was like a scene from Tora Tora Tora. Paula: What is the band's future plans? Anna: To keep playing this music until we all die of old age: a fate which will be long delayed by the absolute joy and energy the playing brings. Biff: Continue recording this crazy, wonderous music. We've booked some time at Smart at the end of May. Hopefully, we'll get out and tour next spring. Seth: The band is a perpetual surprise and joy. I hope that one day they will invent a good sounding bass amp that is louder than Siggi and weighs 5 pounds. I want the band to play some gigantic, mythic folk festival where everyone, absolutely everyone, dances their brains out. Including my all our friends, lovers, wives, husbands, pets and children. Then, at the end, we all ascend to Nirvana. Graphics used with permission from RPO.