Oliver Sudden Productions
Dateline: 07/23/99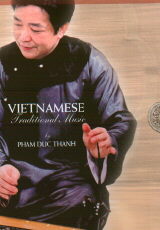 Oliver-Sudden Productions is a new World Music label focussing on traditional music from all parts of the world. Highlights of the company's current catalog includes the album Vietnamese Traditional Music by recording artist Pham Duc Thanh, which is the newest release on the label. Other titles include an assortment of Chinese and Flamenco releases.

I talked to Oliver-Sudden founder Paul Etch about his label, his goals, and what he is trying to achieve in the area of World Music.
---
Paula: How and when did Oliver Sudden get started, and what is your involvement with the company? Paul: Oliver Sudden Productions started out as a recording studio in 1985. The studio recorded recorded radio jingles, music for film and production of all styles of music released on differentlabels. My involvement was mostly sound engineer with a bit of creative input on various projects. Oliver Sudden Productions the world music label started in 1993 when I met a Chinese busker in downtown Montreal. His name was Lei Qiang and he played an erhu (two-stringed Chinese fiddle). Lei Qiang had just moved here from Xian, China. I offered to record a cassette for him in my studio. The first cassette called Erhu Music was just erhu solo. Seeing that that cassette was selling well. We decided to call the University of Xian where the Shaanxi Provincial Song and Dance Troupe (the offical traditional troupe of Shaanxi) was based. Lei Qiang had performed with that troupe for 11 years and toured with them across China, Japan and Hong Kong. We asked the several arrangers of the troupe to do a recording of specific pieces for the erhu. Their recording featured arrangements of Di-Zi, Pipa, Yang Qin, Zheng, Double Bass, Chen, Cello, percussion plus Erhus 2,3,4. We recieved that master in Montreal and recorded Lei Qiang's erhu as the main solo instrument mixed it and pressed it in Montreal. Chinese Traditional Music Vol. 1 by Lei Qiang was released in 1995 and distributed by Festival Distribution across Canada. Liu Fang (pipa player from Kunming, China) had just moved to Montreal from Germany. She called me and asked me if I would like record the pipa. Chinese Traditional Pipa Music by Liu Fang was released in 1997. Chinese Traditional Erhu Music 2 by Lei Qiang was also released in 1997. Lei Qiang can also be heard on Cirque du Soleil, Quidam and the new one O (BMG). Lei Qiang is currently performing in Las Vegas with the Cirque du Soleil in the new show called O. Liu Fang is touring across Canada this summer and in the fall she will be playing in Berlin Germany and Bogota, Colombia. Paula: What is the mission of Oliver Sudden? Paul: The mission of Oliver Sudden is to produce and promote traditional music of the world. Sticking to the roots and never, never use synths and drum machines or mixing a Scotish bagpipe with an African Cora and a Tibetan Gong in the same musical piece. I know there is a trend in world music called worldbeat like Afro Celt Sound System that mixes all kinds of world instruments to create a global sound. Though this style is very popular, personnally I think it just doesn't work and it seems to me a little tacky. Oliver Sudden wishes to preserve music in it's traditional form. A great deal of historical research on the music is done before we release anything. We believe in providing with the CD a fair bit of liner notes in French, English and the language of the featured artist. So some CDs have Chinese or Spanish or Vietnamese or Hindi but they are always in French and English the offical languages of Canada. Paula: What particular kinds of World Music does the label specialize in and why? Paul: We have released 3 Chinese Traditional CDs, Lei Qiang's, Chinese Traditional Erhu Music K10-007CD, 1995 Liu Fang's, Chinese Traditional Pipa Music K10-009CD, 1997 Lei Qiang's, Chinese Traditional Erhu Music Vol. 2 K10-010CD, 1997 1 Flamenco guitar CD by Juan Josť Carranza from Costa Rica, Juan Josť Carranza's, Flamenco de la Costa K10-11CD, 1998 1 Traditional Paraguayan Harp CD by Eralio Gill from Paraguay Eralio Gill's The Art of the Paraguayan Harp K10-12CD and 1 Vietnamese Traditional CD by Pham Duc Thanh from Northern Vietnam Pham Duc Thanh's Vietnamese Traditional Music K10-14CD We will release music from anywhere in the world as long as it is deeply rooted in tradition. The artists must be of excellent caliber. We have released 6 CDs so far we have only begun to scratch the surface of the world. Paula: What releases/projects are going on now that have you particularly excited? Paul: We will be releasing a new CD in July, 99: Aditya Verma's, Sarod, Traditional Music from India K10-15CD. This one is truely amazing. Aditya Verma trained under Pandit Ravi Shankar, Ustad Aashish Khan and Ustad Ali Akbar Khan. Verma is accompanied by Vineet Vyas (tabla) who studied under the celebrated tabla master Pandit Kishan Maharaj. The CD has liner notes in French, English and Hindi. The CD features 2 wonderful Ragas. Instruments are Sarod, Tabla and Tanpura. Adiya Verma starts his Canadian tour at the Winnipeg Folk Festival July 10th. He will be in Edmonton on August 8 & 9. Paula: What does the future hold for Oliver Sudden? Paul: Many more recordings in the winter. This summer is mostly touring the artists and promotion. In October I will be promoting my label in Berlin, Germany at WOMEX 99 (world music expo) and then to meet my German distributor in Hamburg. In November I will be in Colombia touring and promoting The Chinese Traditional Ensemble for the second year in a row. Then from December to May I will be locked away in the studio recording more music. Then in the summer of 2000 will be tours and more promotion.
Paul adds that Oliver Sudden Productions always welcomes demos of traditional world artists. They will listen to anything as long as it is traditional. Mail demos to: Oliver Sudden Productions
P.O. Box 1332
Bonaventure
Montreal, QC
H5A 1H1
Canada
Graphics courtesy of Oliver Sudden Productions.